Wednesday 15th July
PDF version available at the bottom of this page.
Good Morning Year R, please see below the activities we would like you to do today. Remember you can take photos (if you have made, shown or drawn something) or use your exercise book to write any sentences or complete any number sentences. You can ask your grown-up to put your work on Tapestry so we can see what you have been up to. Also, please use this link to access daily speed sound phonics: https://m.youtube.com/channel/UCo7fbLgY2oA_cFCIg9GdxtQ?reload=9
English
LO: I can independently write sentences about myself.
Activity:
Can you complete the 'Spreading my wings' sheet so that your new teacher can find out some more things about you. Who are your friends? What do you like doing in school? You could tell them about your favourite topic this year. What do you want to get better at next year?
Maths
LO: I can share an amount equally.
Activity
Yesterday we practised halving, which is when we share an amount equally between two groups. Today we are going to continue practising sharing, but this time we will be sharing between more than two groups. Remember, when we are sharing, we must make sure that all groups have an equal amount so that it is fair.
Today there is a Teddy Bear's Picnic happening in the forest! They have all gathered in groups and are going to share some cakes between themselves. Can you read the number of cakes that each group of teddies starts with and work out how many cakes each teddy would get if they shared them equally? You could do this by finding the correct number of objects to share between each teddy or you could draw the correct number of circles to represent the teddies and then draw dots inside the circles to represent the cakes.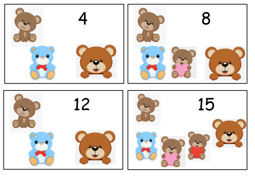 Curriculum
LO: I can construct with a purpose in mind using a range of materials.
Activity:
Today we would like you to make your new class animal! In September you will either be a squirrel (Bee class), a fox (Caterpillar class) or a hedgehog (Ladybird class). You can draw, paint or sculpt your animal using materials and tools available in your home. The pictures below may help you to plan your creation.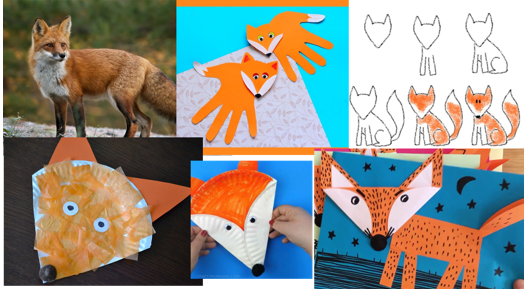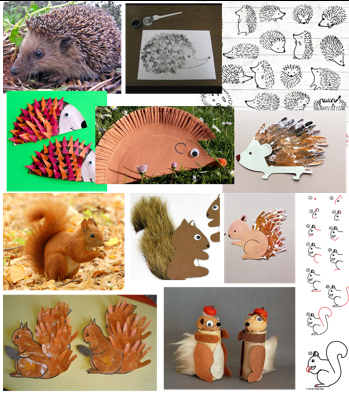 Stay safe, best wishes from Miss Gill, Miss Baldwin and Mrs Gedge xxx