Wednesday 15th July
PDF version available at the bottom of this page.
Good Morning Year 2, please see the activities below we would like you to do today. Remember you can take photos or use your exercise book.
We hope you have fun!
Transition activity 15th July
Activity
For your transition activity today, we would like you to think about your achievements and the progress you've made since being at St Paul's.
What is something you've done really well and that you're proud of? It could be in your writing, maths, in PE or any subject in school.
Take time to have a think. There could be lots of things you are proud of or just a few.
Use today's PDF/home learning book or a safe piece of paper to record all of these things.
We would like you to remember these ideas when you go into year 3 and remember how amazing you all are and how far you've come since starting school. You could take this piece of work with you into year 3 and show your new teachers all of the things you are proud of, we are sure they would love to know.

You have ALL been fantastic at St Paul's and we know you will continue to shine in year 3!
Resources
15.7.20 Transition PDF
Maths
LO: I can record times on an analogue clock
Activity
Today, we are going to look at time.
We would like you to go about your day as normal but, keep a 'time' diary by drawing the hands on the clock, writing the time in words and what you did.
For example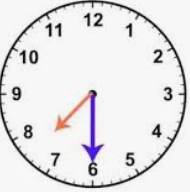 At Half past seven I woke up.
Use the attached template if you like or design your own.
We'd like you to write at least 5 different times. For example, Wake up, eat breakfast, go for a walk, eat dinner, get ready for bed.
You can record times that are:
O'clock
Half past
Quarter past
Quarter to
Looking for more: Record two events in your day that happened at an interval of 5. For example; 5 past, 10 past, 20 past, 24 past, 25 to, 20 to, 10 to, 5 to the hour.
Resources:
Clock template pdf
Stay safe, best wishes from Mrs Bunce, Miss Collins, Miss Friend and Mrs Smith xxx