Thursday 16th July
PDF version available at the bottom of this page.
Good Morning Year R, please see below the activities we would like you to do today. Remember you can take photos (if you have made, shown or drawn something) or use your exercise book to write any sentences or complete any number sentences. You can ask your grown-up to put your work on Tapestry so we can see what you have been up to. Also, please use this link to access daily speed sound phonics: https://m.youtube.com/channel/UCo7fbLgY2oA_cFCIg9GdxtQ?reload=9
English
LO: I can independently write about my memories from this year.
Activity:
Can you think about your year in Reception? Do you have a favourite part? Is there something that still makes you smile from this year? It could be the Christmas play, Easter egg hunt or a specific lesson that you have done. You can draw a picture to go with your memory. You can use the sheet attached or make your own.
Maths
LO: I can add and subtract numbers up to 20.
Activity
This term we have already practised lots of adding and taking away, but today we would like to check to see if you can solve them correctly when the adding and taking away number sentences are all mixed up!
Can you find the answers to these calculations, making sure that you read the number sentence properly and look to see which symbol is used so that you know whether to add or subtract.
5 + 6 = 8 - 6 =
10 - 4 = 15 + 4 =
9 - 5 = 11 + 8 =
12 + 7 = 19 - 3 =
Don't forget that you can solve these however you choose. You could use objects, draw circles or lines, use a number line or even count forwards or backwards in your head!
Curriculum
LO: I can explore a technique experimenting with form.
Activity:
To help you to become more familiar with your new teachers in year 1, we would like you to produce a drawing of them. Today, we would like you to explore line drawing using either a black pen, pencil or charcoal. As we will not be adding colour, the focus is really on the shapes and lines we draw to represent the different features of a face. Try to include lots of detail in your drawing, take a look at the example below. With this technique you don't need to be too neat and tidy, your lines can be sketchy. Just go for it and see what you can create!

Use these photos from our school website to base your drawings on- your new teachers would love to see your work!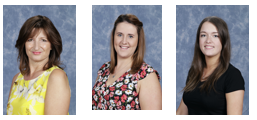 Stay safe, best wishes from Miss Gill, Miss Baldwin and Mrs Gedge xxx​​​​​​