Monday 20th July
PDF version available at the bottom of this page.
Good Morning Year 2, please see the activities below we would like you to do today. Remember you can take photos or use your exercise book.
We hope you have fun!
English
Activity
Find and watch one of your old teacher's stories on the St Paul's website.
Go to home learning à school portal à story time and find a story that you'd like to listen to. You might like to listen to more than 1 story!

Once you have listened to a story, choose from the following activities:
-Complete a book review! You could use today's PDF template or write your own, talking about what you like/dislike about the story, anything you would change and if you would recommend it to a friend.
-Rewrite the story in your own words. Can you make it more exciting?
-Be an illustrator for the story, drawing your own pictures for the different parts.
-Read your own book and record you reading it for your friends to see!
Resources
Optional depending on chosen activity
20.7.20 English PDF
Maths
LO: I can solve calculations involving all four operations.
Activity
Today you are going to practise solving addition, subtraction, multiplication and division number sentences to crack a code that is found on the Code Break pdf. Remember all the different strategies you have practised at home to help you find the answer.
There are some multiplication number sentences written like this:
2 x 8
That you may think are a little tricky. But remember you can swap the numbers around and the calculation stays the same.
8x 2
You may find it easier to solve as you can count in twos, eight times.
Good luck cracking the code!
Resources:
20.7.20 Maths - Code Breaking PDF.
Connected Curriculum
LO: I can design and make a product.
Activity:
This week we are going to be having our class Zoom End of Year Celebration! We thought it would be fun to all wear party hats so today we are going to make one ready to wear!! You can use anything you have at home to make this (you might even have a hat already which you could wear or add some extra 'oomph' to make it more exciting!)
Here are some examples of some hats you could make;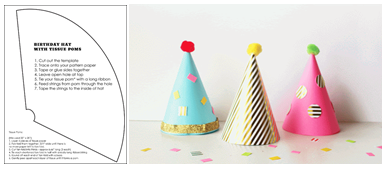 Have fun and be creative!
Resources:
Party Hat PDF or whatever you have at home!
Stay safe, best wishes from Mrs Bunce, Miss Collins, Miss Friend and Mrs Smith xxx