Monday 13th July
PDF version available at the bottom of this page.
Good Morning Year R, please see below the activities we would like you to do today. Remember you can take photos (if you have made, shown or drawn something) or use your exercise book to write any sentences or complete any number sentences. You can ask your grown-up to put your work on Tapestry so we can see what you have been up to. Also, please use this link to access daily speed sound phonics: https://m.youtube.com/channel/UCo7fbLgY2oA_cFCIg9GdxtQ?reload=9
English
LO: I can independently write sentences about me.
Activity:
Your new teachers are all very excited to meet you and want to find out some information about you beforehand! Can you make an 'All about me' fact file about yourself? You can use the template attached or make your own. You could include your favourite colours, songs, stories or anything else you'd like your new teacher to know!
Maths
LO: I can double an amount.
Activity
This week we are going to revisit some of our earlier activities to consolidate what we have learnt this term.
Today we are going to look back at doubling, can you remember what this means?
Doubling is when you add the same number again, so if you wanted to double 4 you would work out 4+4.
Today we would like you to do some doubling by finding out how many legs there would be altogether if you had two of each of these animals. We have done the first one for you: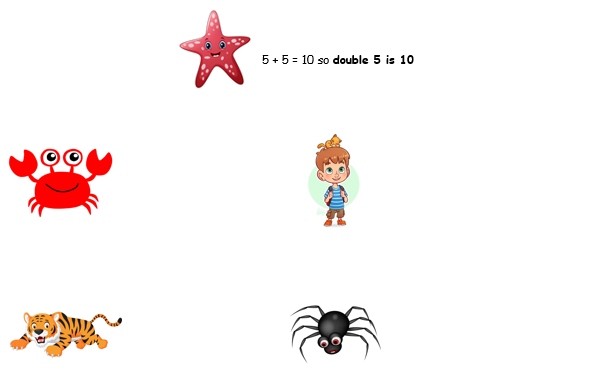 LO: I can use colour and form to achieve a planned effect.
Activity:
As we approach the end of our time together in reception, it seems fitting to reflect on how you have changed and grown since you first started school in September. Our first topic was called 'All about me', and I remember many children choosing to paint a self-portrait during their child-initiated learning time. You have now had the chance to explore more painting techniques, including colour mixing, and have worked hard to develop greater control when using pencils and paint brushes. Your task today is to draw or paint a self-portrait of how you look now. Here are some top tips and techniques you could try, to produce your best work.
Take a selfie and keep it in view while you are working.
Look carefully at the shapes needed to form a face, don't draw what you think they are, draw what you can actually see!
Look carefully at the position of your eyes, nose, mouth and ears. Are your eyes right at the very top of your face or or nearer to the middle?
When it comes to colouring with your chosen medium (e.g. paints, coloured pencils or pens) choose your colours carefully. You may need to mix colours to create your skin tone. How can you make lighter or darker shades when mixing paint?
Maybe you could include your favourite colour in the background of your portrait.
Have fun- we'd love to see your portraits on Tapestry!
Stay safe, best wishes from Miss Gill, Miss Baldwin and Mrs Gedge xxx