Friday 17th July
PDF version available at the bottom of this page.
Good Morning Year 1, please see below the activities we would like you to do today. Remember you can take photos (if you have made, shown or drawn something) or use your exercise book to write any sentences or complete any number sentences.
We hope you have fun!
English
LO: I can write so other people can read my writing.
Activity: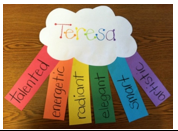 Today we would like you to create a name rainbow! All you need to do it put your name in the middle of your cloud and using coloured pieces of paper write adjectives to describe yourself with each letter of your name.
You could use a thesaurus to help you come up with exciting words. How could you best describe yourself using words from the letters of your name?
Resources:
Coloured paper and a thesaurus.
Maths
LO: I can solve problems.
Activity
Today we have a big problem!!! Attached is a mystery from the palace kitchen. All the gingerbread men's legs have been bitten off but no one knows who has done it! We need you to be the detectives!!
Can you solve the clues to find out the culprit! On page 2 of the booklet is the list of all the suspects. As you complete each problem, you will be able to cross off the people who did not do. Once you have completed the last problem, you should be left with one person, the person who nibbled off all of the legs!!
Resources:
Problem solving booklet (PDF attached)
Connected Curriculum (Science)
LO: I can find out and describe the basic needs of animals.
Activity:
Yesterday we asked you to create your new class animals for the class that you will be moving to in September when you will be year 2. Today we would like you to find out a few things about your new class animal. You might have some information books at home about animals or you might want to use the computer to help you. See if you can find out about where they live (their habitat), what they eat, how many varieties there may be, how big they grow etc. or something else you might want to know! We would like you to write your findings down in your book or you might want to create an informational poster.
Resources:
Computer, information books, paper, pens, exercise book (optional)
Stay safe, best wishes from Miss Puncher, Miss Taylor and Mrs Wilson xxx